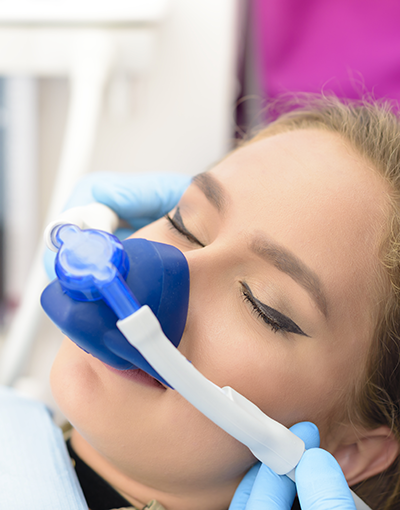 Sedation dentistry is used by dentists to help patients experience stress-free and virtually pain-free dental treatment. Your child's health and safety are our main priorities, and we utilize safe sedation practices to keep both you and your child from feeling anxious or nervous when it comes to needed dental procedures.
Although there are various types of sedation, the most commonly used sedation tool is nitrous oxide, or "laughing gas." Nitrous oxide helps dentists facilitate dental procedures or treatment needs, plus it is well tolerated by most kids. Laughing gas is helpful in reducing anxiety and gag reflex, as well as raising pain tolerance during the procedure. Sedation dentistry helps keep patients calm and at ease and increases tolerance for longer appointments, all while keeping them safe and preserving their smiles.
Types of Sedation
There are a few different types of sedation that all serve a different purpose in keeping your child comfortable and pain-free during a dental procedure. Depending on the need, your child's dentist may use one of the following types of sedation for your child's procedure.
Nitrous oxide: Nitrous oxide, or laughing gas, is a mild, colorless, sweet-smelling gas that is a safe, noninvasive form of sedation. Patients breathe in nitrous oxide through a small mask placed over their nose. Nitrous oxide is usually tolerated well by patients and gives them a sense of euphoria, warmth, and drowsiness during a procedure.
General anesthesia: With general anesthesia, your child will be completely asleep and feel no pain during the procedure. General anesthesia is administered by an anesthesia professional, like an anesthesiologist, and they will remain present in the room along with the dentist for the procedure.
Mild to moderate sedation: This type of sedation is typically used on older kids and adults. Mild to moderate sedation keeps the child relaxed, calm but awake. They will be able to respond to the dentist. Your child may still feel groggy and not remember aspects of the procedure, but they will be able to breathe on their own and move during the procedure.
Deep sedation with IV: Deep sedation is administered intravenously under the supervision of an anesthesia professional. Your child will sleep through the procedure, but may slightly move or make noises while they are sedated. Deep sedation requires the anesthesia professional to remain present during the procedure to monitor the patient's heart rate, oxygen levels, and blood pressure.
Benefits of Using Nitrous Oxide in Pediatric Dentistry
While it is never used as a general anesthetic, nitrous oxide is used to calm anxious patients and help them have a relaxing, stress-free experience during the procedure.
Nitrous oxide is not intended to put a patient "to sleep" but just to help put your child at ease. Nitrous oxide may be used in conjunction with a local anesthesia, which just numbs the area where the procedure is taking place. Most children tolerate the use of laughing gas, but some uncommon side effects may include nausea, vomiting, headache, and/or a feeling of disorientation or drowsiness.
Nitrous oxide is a commonly used sedative due to its quick recovery period. Laughing gas is eliminated from the body quickly with the help of oxygen. Your child's dentist will have them breathe in oxygen for approximately 5 minutes following the procedure to eliminate the need for aftercare restrictions.
Is Nitrous Oxide Safe for Children?
Laughing gas is regularly well tolerated in children and is easily eliminated from the body, making for a safe, effective sedative to keep your children at ease. Additionally, it has a rapid onset and can be adjusted throughout the procedure to accommodate your child's needs.
For nitrous oxide to be as effective and safe as possible, it is important for your child feeling well prior to their appointment. Be sure that they can breathe well through their nose and have them avoid a large meal prior to the procedure. If your child has a fever, cold, ear infection, or congestion, please contact our office to reschedule your appointment.
If you have questions or concerns about the use of nitrous oxide, please contact our office and our trained staff will be there to help. Schedule an appointment at one of our conveniently located in Greenville, Anderson, or Easley, SC.
Post Sedation Procedure Instructions
It's normal to feel drowsy, disoriented, or even nauseous following the use of sedation. Following a procedure using sedation, be sure to keep your child comfortable as they may be experiencing mild side effects and recovering from numbness. Monitor your child following the sedation and encourage them to stay hydrated. Feed them soft, lukewarm foods, like pudding, mashed potatoes, or lukewarm soup.
If you notice any swelling, have them hold an ice pack to the outside of the affected area, and have your child take children's ibuprofen or acetaminophen for any pain or discomfort. If your child is experiencing excessive pain or swelling that does not subside after 24 hours, please contact our office in Greenville, Anderson, or Easley, SC to speak with our team.