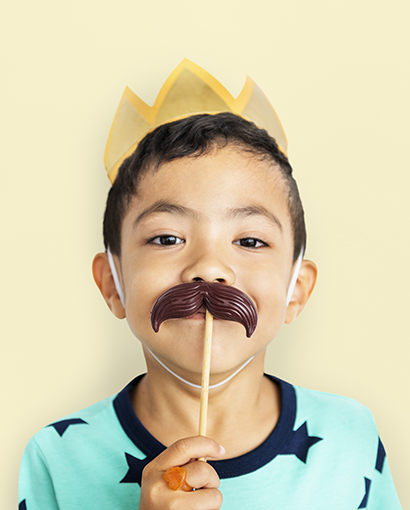 Dental crowns are used to restore a tooth back to optimal health. Our dentists utilize dental crowns to cap a decayed or damaged tooth to protect, strengthen, and bring it back to its normal size.
About Dental Crowns
When a cavity can no longer be treated with a dental filling or a tooth is cracked and damaged, a dental crown is used to restore the damaged or decayed tooth back to its normal size. The dental crown caps the tooth which reinforces the tooth's strength and chewing surface to keep the tooth from cracking, breaking, or any further damage from occurring.
Types of Dental Crowns
There are two different types of dental crowns regularly used in pediatric dentistry. Both stainless steel crowns and white crowns effectively restore damaged or decayed teeth but are utilized for different reasons.
Stainless steel crowns are silver in color and are typically used to cap back molars. The strong metal can withstand the biting and chewing forces of back molars and can adapt to a growing mouth. For this reason, they are commonly used on young patients in active occlusion.
White crowns, made of composite resin, are more commonly used to cap front teeth. Due to their natural color, they are more cosmetically pleasing and blend in with your child's smile. For children, they are not typically used on back molars because the rigidity of the material works best with a mouth that is finished growing.
A dental crown procedure is typically completed in one visit, and with proper dental care, should last until your child's adult teeth come in and replace the crowned tooth.
If you think your child may need a dental crown or you'd link to schedule an appointment at our Greenville, Anderson, or Easley, SC offices, contact us today!
What Can I Expect Post Visit?
Following a dental crown procedure, have your child avoid eating or drinking until the numbness has worn off. This will help them avoid any injury by biting their lip, cheek, or tongue. It is normal for your child to experience some discomfort after the procedure. This may simply just be from irritation to the surrounding gum area. Any slight pain or discomfort can be alleviated with children's ibuprofen or acetaminophen. If your child is experiencing severe pain or if any pain does not subside within 24 hours, please contact our office as soon as possible.
Pediatric Dental Crowns FAQs
Does a Crowned Tooth Require Special Care?
Our dentists recommend taking care of your crowned tooth the same way you take care of your natural teeth! Practice proper brushing and flossing techniques, avoid hard, crunch foods, and protect your teeth during contact sports with a mouthguard to keep your smile healthy. 
How Can I Protect a Dental Crown?
With proper dental hygiene practices like brushing twice a day and flossing daily, your child will be able to take great care of their dental crown. Remember to protect it with a mouthguard during contact sports and avoid hard, crunchy foods. Your child's dental crown should last until their permanent teeth take its place.
How Long Does a Crown Stay on Your Teeth?
A dental crown typically stays put until baby teeth naturally fall out. Proper dental hygiene and minimal "wear and tear" will help keep the dental crown clean and healthy and last until adult teeth come in.
Is Getting Dental Crowns Painful?
A dental crown procedure is not painful. Our dentists utilize topical anesthesia, as well as local anesthesia, to help keep your child as comfortable as possible. Your child might feel some discomfort once the numbing subsides, this is simply due to the gum and pulp being irritated from the procedure and can be alleviated using children's ibuprofen or acetaminophen.