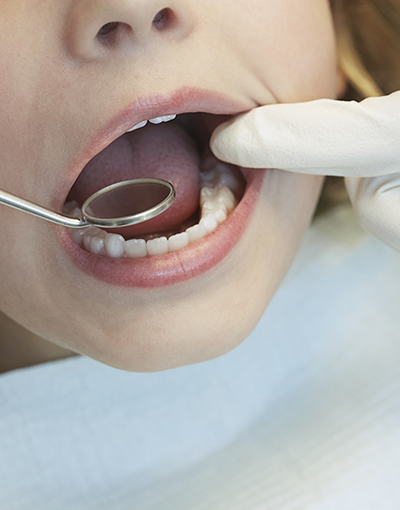 Dental fillings may seem unnecessary for baby teeth, but when it comes to your child's smile, we're here to make sure it is happy and healthy from birth to young adulthood. Fillings, or composite fillings, are typically made of a non-toxic, durable material that will withstand normal biting and chewing forces, plus everyday wear and tear. Dental fillings are a simple restoration to remove the cavity and decay from your child's teeth and bring their smile back to optimal health.
What is a Dental Filling Made of?
Composite fillings, or dental fillings, are primarily made of quartz, ceramic, or silica. Our dentists use these non-toxic substances to keep your child safe and provide a durable filling that will last until their permanent teeth come in. Composite fillings are often called "tooth-colored fillings" due to their color being similar to the natural tooth color.
The constant stress of chewing means the filling needs to be able to withstand moderate pressure. Due to the strength that composite fillings provide, the material is resistant to fractures in small to mid-sized fillings. Composite fillings are more commonly used than silver or gold fillings. Composite fillings are the more common preference for patients because of its natural color. Not only do composite fillings look more natural, but some of them also release fluoride and help to further decrease the risk of decay.
How Can I Prevent Needing Dental Fillings?
When it comes to avoiding cavities, prevention is key. There are several ways to decrease your child's risk of tooth decay and other diseases. Simply incorporate the following into your child's routine:
Brush twice a day with a fluoridated toothpaste
Floss daily
Eat a balanced diet and limit snacking
Schedule a dental visit every 6 months
Why Does My Child Need Dental Fillings?
 The purpose of a dental filling is to restore your smile back to its optimal state. By not treating a cavity, the tooth decay can become more serious and lead to infection, eventually affecting their permanent teeth. At Ashby Park Pediatric Dentistry, we want to help your child maintain healthy smiles for life, and with dental fillings, we can keep tooth decay at bay and prevent further complications down the road.
Benefits of Getting Cavities Filled
Dental fillings are a form of prevention, and when it comes to your smile, prevention is the road to a lifetime of great oral health. The ultimate benefit of getting cavities filled is to remove tooth decay from the damaged tooth, and help your child get back feeling great. In children, a severe cavity can cause issues with speech and eating, making your child uncomfortable and potentially in pain. Filling a cavity continues to encourage a healthy smile and great oral hygiene habits.
Pediatric Dental Fillings FAQs
Will the Filling be Painful?
The dental filling procedure will not be painful for your child. Thanks to topical anesthesia and local anesthesia, our dentists will make sure the tooth being filled is completely numb before performing the procedure. If your child feels any discomfort following the procedure, the appropriate dose of children's ibuprofen or children's acetaminophen will help take care of it. If your child is in pain following the procedure, please contact our office as soon as possible.
How Does the Dentist Choose the Best Filling for My Child?
Your child's dentist will take several factors into consideration when choosing the best filling. They will look at the location of the cavity, the size of the cavity, your child's age, their dental history, and the physical activities they participate in. By calculating all of the factors, one of our talented pediatric dentists will determine the best filling for your child and help keep their smile happy and healthy.
Contact Us to Schedule Your Child's Appointment! 
Contact Ashby Park Pediatric Dentistry today to learn more about dental fillings or to schedule an appointment at one of our offices in Greenville, Anderson, and Easley, SC.